By Gretchen Gehrke, Marcy Beck, Grace Poudrier, EDGI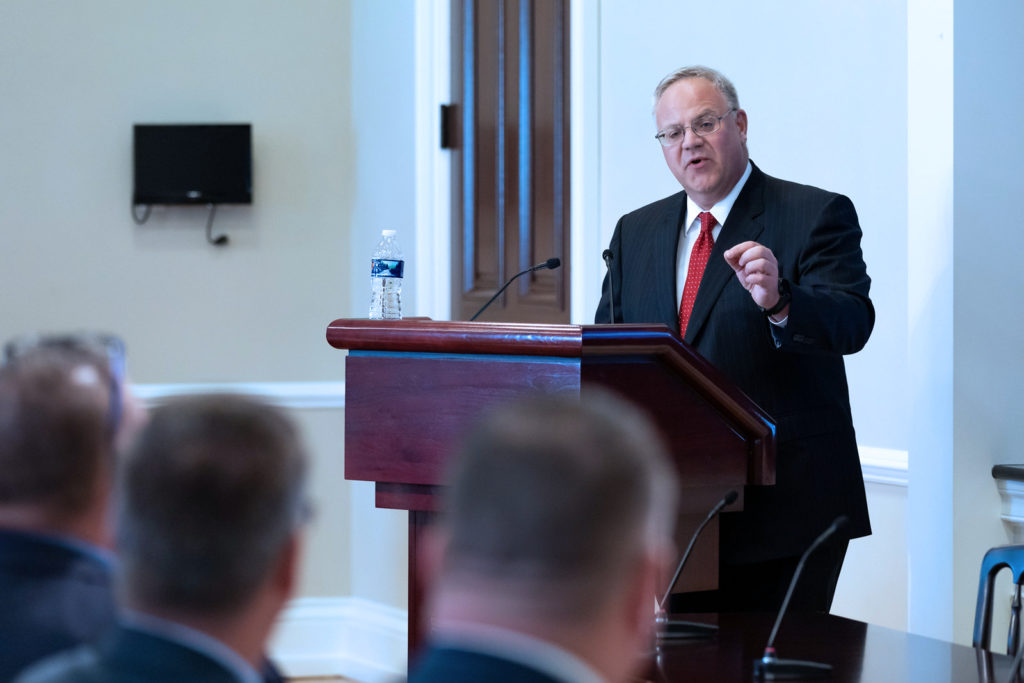 This blog describes findings detailed in "Evolution of the Department of the Interior's Tagline, Mission, and Priorities."
Over the last three years, the Department of the Interior (DOI), which manages more than 20% of the nation's land, has been altering its public image through documented changes to its agency tagline, mission statement, and priorities. Every individual DOI webpage (www.doi.gov/) displays the agency's tagline. Most recently, in March of 2020, DOI changed its tagline, from "Protecting America's Great Outdoors and Powering Our Future" to "Stewarding Conservation and Powering Our Future." This alteration may be understood as a continuation of a larger trend of the Interior shifting its public image. In 2018, for example, the DOI weakened the wording of its mission statement from "…protects and manages…" to "…conserves and manages…," discarding the word "protects" after at least 20 years. DOI also inserted language into its mission statement with clear economic overtures, such as the agency's newfound intent to help people "prosper." Over the last three years, DOI has changed its publicly stated priorities, removing emphasis on long-term conservation, and adding new, albeit vague, priorities more related to economic growth.
Thankfully, there has been substantial reporting on DOI's actions and land management decisions such as leasing sacred indigenous lands to extractive industries, self-proclaimed "shattering" of annual records for oil and gas leases on public lands, and giving away ecologically vital lands for the construction of Trump's border wall. The focus of this blog is, instead, on the department's own language choices in describing its purpose and purview to the public across its website.
Department Tagline
In January 2010, DOI prominently debuted a tagline synopsis of its mission on its homepage: "Protecting America's Great Outdoors and Powering Our Future." The tagline has been continuously featured on the DOI homepage for the last decade, as well as in the footer of all DOI webpages since August 2015. In March 2020, the DOI replaced "Protecting America's Great Outdoors" with "Stewarding Conservation", to read "Stewarding Conservation and Powering Our Future."
Mission Statement
For more than 20 years, DOI described its primary mission as "protecting" the nation's natural and cultural resources. Under the Clinton Administration (1993-2001) and George W. Bush Administration (2001-2009), the DOI's stated mission was to "protect and provide access to" natural resources and to honor its "trust responsibilities" to indigenous communities. Under the Obama Administration (2009-2017), DOI rephrased its mission to state that the department "protects and manages" resources and "provides scientific and other information…" along with honoring trust responsibilities. In August 2018, about one and a half years into the Trump Administration, DOI removed the word "protects," altering its mission statement to say that DOI "conserves and manages" resources, and does so "for the benefit and enjoyment of the American people" and to "help them prosper."
Department Priorities
DOI has included its priorities in a website header drop-down menu and on a webpage titled "Our Priorities." The content of the header menu and the webpage used to be aligned, but has diverged over the last three years, currently reflecting only some overlap of priority descriptors. In Spring 2017, DOI revised and reorganized priorities that had been inherited from the Obama Administration. On both the header menu and the "Our Priorities" webpage, DOI removed priorities regarding "The Next Generation" and "Landscape-level Understanding of Our Resources," temporarily increased the visibility of "Climate Change" as a priority, and added the new priorities of "Jobs" and "Regulatory Reform." As previously reported by EDGI, DOI later removed "Climate Change" from its stated priorities in July 2018 and added "Recreation" to its header menu priority list in March 2019. The current list of priorities featured in DOI's website header include: American Energy, Jobs, Recreation, Regulatory Reform, Stewardship, and Tribal Nations.
In March 2018, DOI added a new, vaguely worded list to its "Our Priorities" webpage, with seven points largely reflecting its previously stated priorities and three additional points mentioning new priorities relating to protecting the border and addressing internal DOI goals and organizational structure. In August 2018, DOI removed the text and links from the "Our Priorities" webpage that mirrored its priority header menu items, to leave only the list of ten points on the page.
The overall evolution of DOI's drop-down "Priorities" menu has been to remove links and foci on the future and integrated approaches to conservation, and to add new priorities that reflect economic interests. Over the course of the Trump Administration, the "Our Priorities" page has had a notable reduction in the utility and clarity of the webpage as an informational resource. While the webpage previously linked to several additional webpages with content pertaining to DOI's most important initiatives, the webpage has now been whittled down to feature an apparent vacuous rendering of ten agency priorities that warrant viewing as a whole:
Create a conservation stewardship legacy second only to Teddy Roosevelt.
Sustainably develop our energy and natural resources.
Restore trust and be a good neighbor.
Ensure tribal sovereignty means something.
Increase revenues to support the Department and national interests.
Protect our people and the border.
Strike a regulatory balance.
Modernize our infrastructure.
Reorganize the Department for the next 100 years.
Achieve our goals and lead our team forward.
The dilution of department priorities is clear from the evolution of this webpage. Case in point: the Trump Administration's DOI reworded its statement regarding its "Tribal Nations" priority from the Obama Administration's "Interior builds upon progress made over the past four years to establish strong and meaningful government-to-government relationships with tribes, deliver services to American Indians and Alaska Natives, and advance self-governance and self-determination" to the current "Ensure tribal sovereignty means something."
As the language DOI uses in its tagline, mission, and priorities has been substantively weakened, it also now frames a frighteningly vague platform for the continued undoing of historic commitments to natural resources, tribal nations and public lands.