EDGI has just released its 2019 Annual Report. We've grown and matured as an organization, and have been busy over the past year, continuing to make important contributions to highlighting the dismantling of federal environmental protections, and to thinking proactively about models of environmental data justice.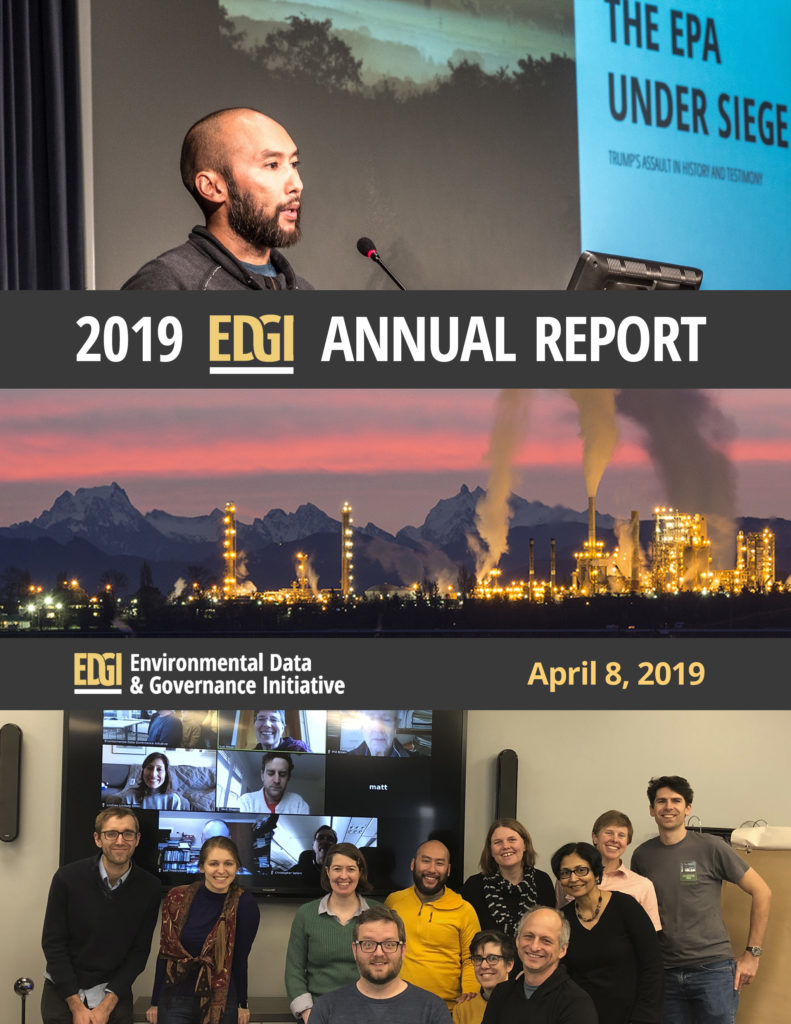 EDGI employs four core strategies to achieve our organizational vision of a future in which justice and equity are at the center of environmental, climate, and data governance, and where industries and governing agencies are held accountable through transparent, collaborative, community-centered environmental research, technology, and decision-making. In this report, we highlight our work and accomplishments for the past year under these strategies.

Maintaining Vigilance and Fostering Legibility
Our work tracking and making publicly legible changes in federal environmental governance informed over 70 news articles in 50 different news outlets.

EDGI's Interviewing Working Group released a pathbreaking summary and analysis of the decline in enforcement at the Environmental Protection Agency (EPA) entitled: A Sheep in the Closet: The Erosion of Enforcement at the EPA.

Our Website Monitoring Working Group continues to monitor over 25,000 federal web pages, and published reports detailing significant reductions in environmental information access and content changes on federal agency web pages. We are also developing open source software for website monitoring.

Visioning and Building Alternatives for More Just Environmental Governance
EDGI's Archiving Working Group continues to build on its grassroots Data Rescue efforts that involved events in over 40 cities and towns across North America and ended in mid-2018. We established partnerships with software companies, QRI and Protocol Labs, to develop "Data Together," a set of protocols and technologies for decentralizing data storage online.

In pursuing our goal to inspire and co-create alternative and more just forms of environmental governance and data gathering, EDGI formed the Environmental Data Justice (EDJ) Working Group last year. In its inaugural year EDJ hosted its first public online event entitled "Environmental Data Justice: Visions and Values" bringing together advanced practitioners in both data justice and environmental justice and garnering over 200 registrants.

Prototyping an Alternative Organizational Structure
An exciting new development this year was the formation of the Alternative Organization Working Group that is helping to steward our professionalization, growth, and sustainability.

Communicating and Engaging in Various Spheres of Influence
In addition to the reports and academic articles, EDGI members share our work through blogs, op-eds, and public comments. Our 2019 annual meeting identified communications as a vital but underdeveloped sphere of EDGI's work; it is a sphere we seek to build significantly in the future to ensure the work in EDGI's other three areas is interconnected and effectively shared with our many constituents, including non-profits, the general public, researchers, and regulators.

Your Support Matters
As in the past, we continue to rely on and benefit from the steady support and encouragement of our fiscal sponsor, the Public Laboratory for Open Technology and Science. In 2018 we benefited from sustaining funding from the David and Lucile Packard Foundation and the Doris Duke Charitable Foundation. We also received support from individual donors. Importantly, EDGI continues to be a volunteer organization, and the commitment of the many volunteer technologists, professionals, community members, students, and academics is what makes EDGI work on a daily basis.

Please read the full report to learn about our work, celebrate where we've come from, what we've accomplished, and what we hope to become. Thank you so much for all your support.