By Kelsey Breseman, EDGI
As of December 2019, ToxMap and ToxNet are being retired from the National Library of Medicines website maintained by the National Institute of Health. EDGI has written previously about the impact of this removal of access in our post "Goodbye to ToxMap–and our Environmental Right-to-Know".
In advance of the removal of the two sites, EDGI was able to seed archives of 107 ToxMap and 1,855 ToxNet pages into the Internet Archive's Wayback Machine. You can find a list of the archived pages here on Github.
How to access the archived pages
You can access individual archived pages by prefacing URLs with https://web.archive.org/web/*/ or by searching the full URL at https://archive.org/web/ and clicking on the most recent clickable date.
For example, to find the archive of https://toxnet.nlm.nih.gov/, go to https://web.archive.org/web/*/https://toxnet.nlm.nih.gov/:

When the calendar appears, circled dates indicate saved snapshots from that date: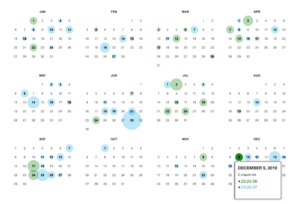 Click on the timestamp to see the snapshot from that time:

If you click on links within the archived page, you will be directed to the most recent snapshot of those links as well.
Limitations
The archived version of ToxMap's interactive map (https://web.archive.org/web/20191214180147/https://toxmap.nlm.nih.gov/toxmap/app/) doesn't load, but the data files that support it are available via https://web.archive.org/web/*/https://toxmap.nlm.nih.gov/toxmap/download.html.
Help Keep our Government Accountable!
Join the effort by becoming a volunteer web monitoring analyst at 5-10 hrs/week. Analysts track and classify website changes flagged by our version tracking software. Each analyst is responsible for monitoring a set of web domains on a weekly cycle, which is important for ensuring timely response and coverage. Want to help? Contact our Web Monitoring Program Coordinator at edgi.websitemonitoring@protonmail.com.