Welcome! This post is part of the EDGI Website Monitoring Team's "Change of the Week" blog series. The purpose of this series is to highlight interesting changes we have observed in the language used on, or access to, federal websites. We want to share these changes to encourage public engagement with and discussion of their significance, as well as understanding of the ephemeral nature of website information. This week's change was made in early 2017 and features the removal of an Obama-era DOI Solicitor Opinion related to migratory birds and its permanent replacement with a suspension memo.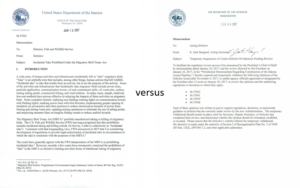 This screenshot shows on the left the first page of the 30-page Opinion M-37041 available on the DOI Solicitor Opinion website prior to February 6, 2017. On the right is the one-page suspension memo that has replaced that Obama-era Opinion.
What happened? 
In the last two weeks of the Obama Administration, the Department of the Interior (DOI) publicly issued Solicitor Opinion M-37041, a 30-page legal opinion titled "Incidental Take Prohibited Under the Migratory Bird Treaty Act," which confirmed decades of agency interpretation that the MBTA prohibited the killing of migratory birds, even if that killing were not intentional (known as "incidental take"). On February 6, 2017–just two and a half weeks after President Trump was sworn into office–M-37041 was suspended and withdrawn by the new Acting Secretary. Its record on the DOI Solicitor's Opinions website (which lists and links all Solicitor Opinions since 1993) was removed and replaced with a 1-page "temporary" suspension memo. 
Since then there has been no way to navigate to the original M-37041 opinion from the DOI or any other federal agency website. The URL for the pdf of the M-37041 memo still exists, but can only be found by typing the exact URL. 
Why we think it is interesting:
We think this change is interesting from both an informational and an environmental policy perspective. 
From an informational policy perspective, the practice of suspending and withdrawing previously written Solicitor Opinions is deeply problematic and appears to be new under the Trump Administration. Of the 77 opinions dated from 1993 to the present and published on the DOI Solicitor's Opinions webpage, six have been marked as suspended or withdrawn. All six suspensions and removals occurred during the Trump Administration, with one executive action prompting four such changes: the "Presidential Memorandum Regarding Construction of the Dakota Access Pipeline." The wholesale removal of former formal agency guidance from public view, especially while that guidance is under review, leaves federal agencies and the public without reliable information about environmental laws and their enforcement. Solicitor Opinions and related agency documents should be maintained, with clear delineations between those that are current guidance and those that are not. 
From an environmental policy perspective, this change launched a drastic assault on migratory bird protections. The Migratory Bird Treaty Act (MBTA) has been an essential law that has curtailed the unnecessary deaths of migratory birds from industry activities for decades. Solicitor Opinion M-37041 confirmed decades of agency interpretation that "the MBTA's broad prohibition on taking and killing migratory birds by any means and in any manner includes incidental taking and killing" (M-37041, 2017, p 30, emphasis added). This means that accidental killing of migratory birds is unlawful and can be penalized. For example, the MBTA has prompted oil extraction facilities to put netting over their oil and wastewater ponds, and the communications industry to alter radio tower light signalling, to mitigate dangers posed to migratory birds. 
Following the February 2017 suspension of Solicitor Opinion M-37041, public information about incidental take was removed from multiple website pages of the U.S. Fish and Wildlife Service (FWS), the bureau within DOI charged with implementing the MBTA. In December 2017, a new DOI Solicitor Opinion was posted, M-37050, titled "The Migratory Bird Treaty Act Does Not Prohibit Incidental Take." This Opinion reversed a century of agency opinion and practice, and gutted the MBTA's ability to protect migratory birds from industrial activities. In February 2020, FWS proposed a rule to codify this new interpretation; in June 2020, FWS released a draft environmental impact statement for the proposed rule that simultaneously detailed the devastating effects this proposed rule could have on migratory birds, and asserted that codifying the acceptability of accidental killing of birds was the agency's preferred path. (For more information, read our public comments on the proposed rule and the DEIS, and a summary of the issue from the Cornell Lab of Ornithology.) 
These moves by FWS to allow incidental take have stark implications for migratory birds. However, in August 2020, a federal judge struck down Solicitor Opinion M-37050 as arbitrary and capricious, making it highly unlikely a new FWS rule (based on M-37050 to allow incidental take) would stand in court. In September 2020, the House Natural Resources Committee committed the Migratory Bird Protection Act of 2020 (H.R. 5552) to the full House. This bill, proposed in January 2020 by Representative Lowenthal ((D-CA) with 18 bipartisan sponsors, would amend and strengthen the MBTA by reaffirming the prohibition of incidental take and mandating the FWS to regulate this prohibition. 
The Migratory Bird Treaty Act saga is a salient reminder that we need legislators and an informed citizenry who are strong and unwavering advocates of environmental protections, and judicators who will uphold those protections. As early voting has started in many states, and our national election day is just three weeks away, migratory bird protections are one example of what is at stake. We must vote and work together not only for ourselves and our neighbors, but also for the lives of non-human communities we so drastically impact.